Accessible Standard Queen With Grab Bars And Tub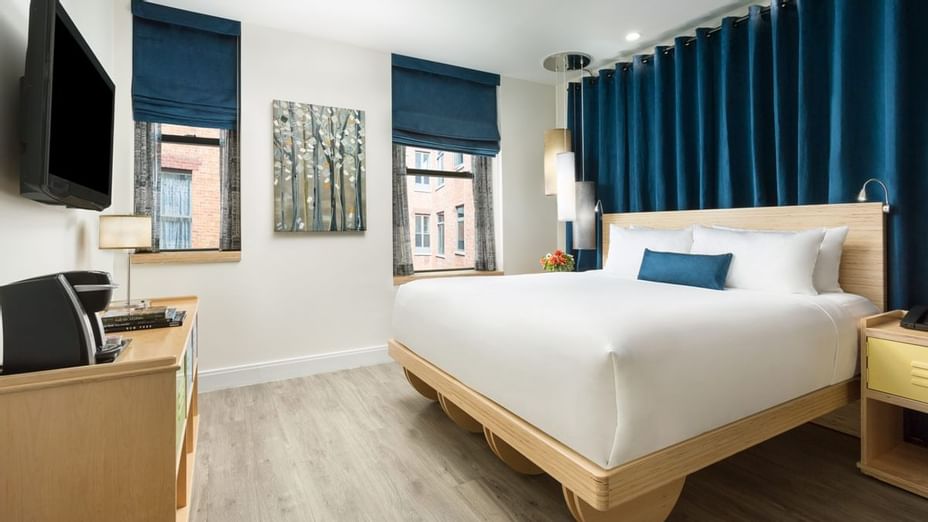 The accessible Standard Queen room is apoximately 240 feet. Amenities of luxury thread count bedding, feather free, wood flooring are offered in the room. In room safe large enough for a laptop. Room features low peep hole, tub, and grab bars. Standard rooms are located at floor 2-12.
*The entrance doorway to the guest room and to the bathroom inside provides at least 32 inches of clear width
*There is 3 feet of clearance width on the sides of the beds
*The desk provides knee and toe clearance that is at least 30 inches high, 30 inches wide, and runs at least 17 inches deep
*The toilet seat is between 17 and 19 inches above the floor and has grab bars on the adjacent walls
*The lavatory sink provides knee clearance of at least 32 inches wide, 27 inches tall and 17 inches deep, all of the under-sink plumbing is wrapped, and the lowest reflective edge of the mirror is no more than 40 inches high
*This guestroom has a tub with a removable tub-seat (upon request), grab bars mounted on the walls, and a detachable handheld showerhead, and all wall mounted accessories and equipment are within 48 inches of the floor.